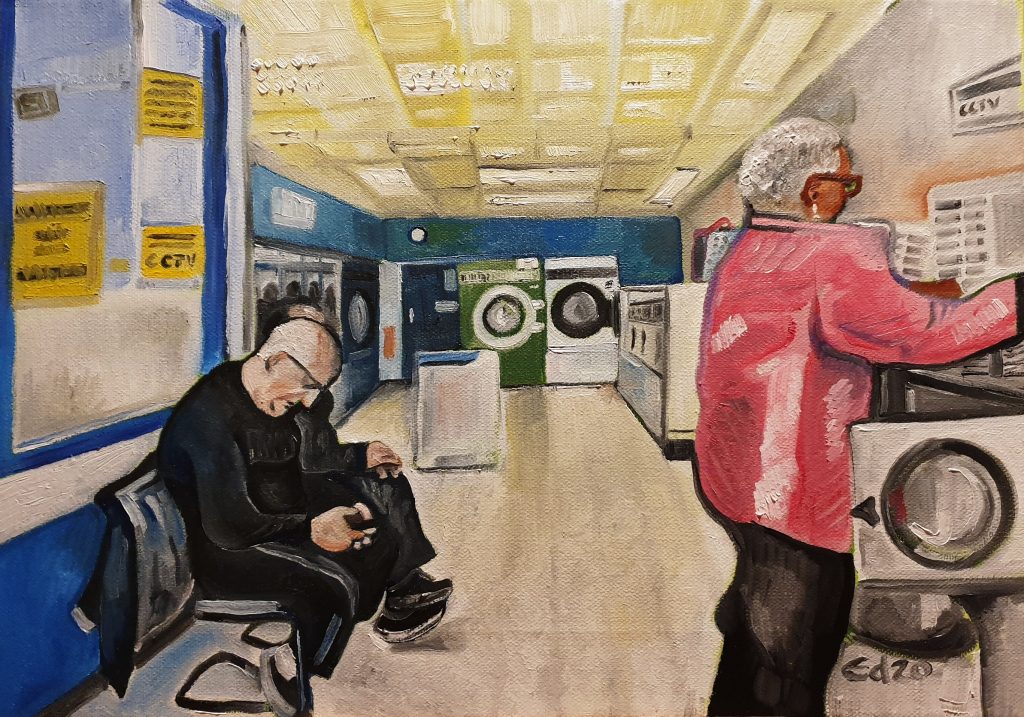 In February 2019, just as Covid-19 was making itself known in China, and further afield I had to pay a trip to the local launderette here in Luton. I'm fortunate enough to have a washing machine at home, but this was one of those necessary visits for the purpose of washing the duvet probably.
I wasn't particularly thrilled about having to go, but took my headphones and a sketchbook. I thought I might as well make the most of the visit to take some time for myself. I arrived, popped the washing on, and sat by the window sketching and listening to some music. It was very relaxing. Everyone in there seemed know know one another, or at least were friendly to each other, and there was a nice sense of well being, as everyone sat and watched their smalls going round and round. I sketched a bit, took a couple of photos on my phone and watched the world go by.
About an hour later, I realised the the was cycle I was on only lasted 30 minutes, so my duvet had been sat there for half an hour while I enjoyed my mindful moment.
Later, I made a painting from one of the photos I had taken – see above. It's called 'Runfold Town Tub'. I was delighted with how it turned out, and although I wasn't sure if it had any commercial appeal I thought I'd try and sell it. I put it up on various social media pages I follow, and had some nice feedback, then tried it in a local gallery. There it sat in the window for two months, with not a sniff of interest from anyone. I took it home, and liking the painting just thought I'd keep put it up on one of my own walls eventually.
Some time later, I shared it on another group I had started following: The Dull Group. The Dull group is a group for people who appreciate the mundane things in life. Life's ordinary treasures.
To my surprise, my painting received a great deal of kind comments, and even more surprisingly, a few offers to purchase the painting and finally a gentleman called Joseph from Australia bought the painting, which I shipped over, arriving about three months later due to Covid.
The moral of this blog post, is that it's so important to find your market. If your product is good, there will be someone out there who wants to purchase it, at a price that works for both seller and buyer. You can waste a lot of time and money casting the net far and wide, but in the end, spending a bit longer working out who your market is a much more efficient thing to do.
Here's Joseph with his painting – on the other side of the world. Quite why he wanted to buy it I'm not sure. I'll ask him one day.